(Atlanta, Ga) It took more than the 60 minutes of regulation for the Rams to learn their Super Bowl LIII opponent between the Patriots and Chiefs, who dueled to the point of overtime in the AFC Championship game. But then it was quarterback Tom Brady executing in the bonus football, going thee-for-three converting on 3rd-and-10, before handing the ball to running back Rex Burkhead three times to send the Pats to the Super Bowl.
It was the 44th game-winning drive of Brady's career — the 12th of his postseason career. Clutch late-game drives have been part of what's made Brady great and what has lifted the quarterback to the top of the football universe five times. If it's Brady and the Patriots' ball late, and the Rams defense is on the field needing a stop for the Lombardi Trophy, No. 12 has proven that it's reasonable for the L.A. faithful to be nervous.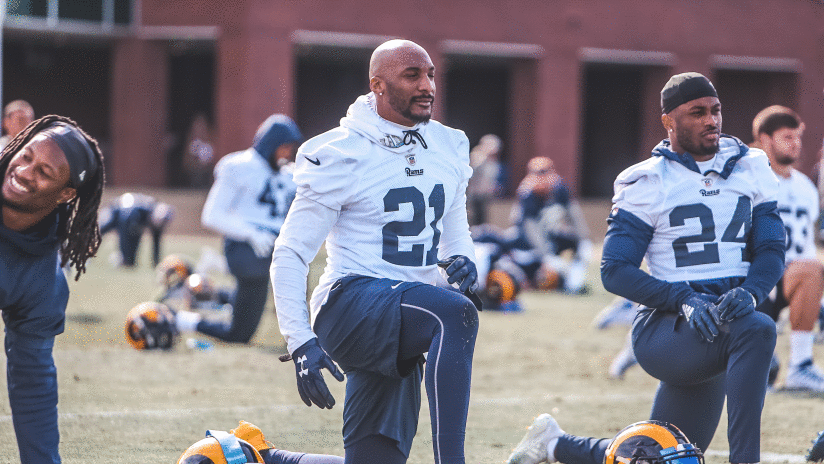 "Total confidence," wide receiver Robert Woods said, imagining the situation — watching his Super Bowl fate fall into the hands of the defense. "These guys have been in big games, these guys are total ball players… I think this is just another game for them to make plays. I think it's a good matchup and they know big-time players make big-time plays."
"Aaron Donald, playoff Suh," running back Todd Gurley said confidently. "I think we'll be in good hands with those guys."
Defensive tackle Ndamukong Suh's postseason surge of 1.5 sacks, four quarterback hits, and eight tackles — two for loss — likely boosts Gurley and the Rams' confidence heading into Sunday, but the Rams have been coming up with big stops all season long.
Take Week 4 against the Vikings. With the Rams up by a touchdown, quarterback Kirk Cousins had the ball, approaching midfield with time before the two-minute warning. On first down, Cousins was sacked by defensive tackle Aaron Donald for a loss of eight. Three plays later it was rookie defensive end John Franklin-Myers with a strip-sack on Cousins — Rams ball, game over.
Then against the Packers in Week 8, Donald brought down quarterback Aaron Rodgers for a 10-yard loss midway through the fourth quarter, giving the ball back to Gurley and company.
Outside linebacker Dante Fowler joined the fun against the Seahawks in Week 10 with a fourth-quarter strip-sack. He did it once again in overtime of the NFC Championship game, laying what will go down in Rams history as a memorable quarterback hit on Drew Brees — forcing a wobbling pass that fell into the hands of safety John Johnson. It was another big-game, late-game pick, like cornerback Marcus Peters' fourth quarter interceptions Week 1 in Oakland and Week 11 against Kansas City.
Proven in the regular season — be it bend-don't-break defense at times — and enough to get the NFC West Champs to Super Bowl, how will the defense fare late against Brady?
"Got to execute the gameplan,"cornerback Aqib Talib said. "Coach Wade is going to call good calls, we just got to execute."
"I'm just going to try to do my job," Donald said, whose regular season resume boasts 9.5 fourth-quarter sacks. "If I could make a million plays, I'd make a million plays, so I'm just trying to do my job and I'm trying to fly around and do what I can to help my team to win. Like I said, this is a big stage, this is what you work for, so what better stage than to do it now in the Super Bowl? This is what you are here for."
Help Support Local News, Become a Sponsor or Advertiser. Our Ad Rates are the most affordable in town. Contact Us for More Information.